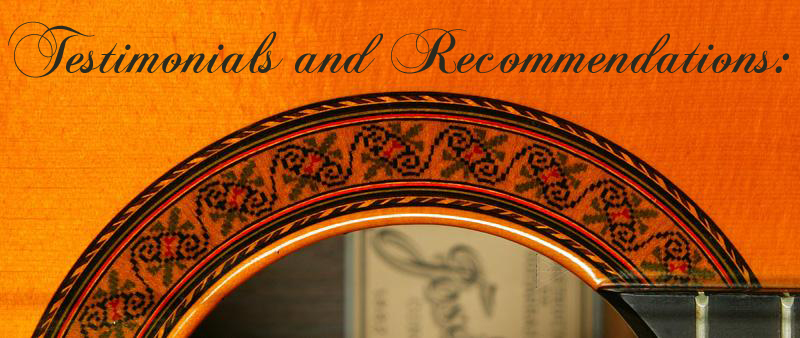 ---
"I had studied with many guitar teachers, Mr. Morvillo stands out at the top of the list when it comes to making classical guitar instruction clear and playing even intricate music easy to accomplish"
Jeff B.
♩ ♪ ♫
"I was struggling for many years trying to play the classical guitar. As a corporate sales manager in a Wall Street financial firm, I am always on the go and do not have a lot time to practice. Virtually all the classical guitar teachers I have studied with in the past, not only had little patience for my inability to practice daily for hours, but would only teach me using regular music notation, which I always found extremely difficult and wanted at one point to give up trying to play the classical guitar entirely. I knew most tab was inferior and nothing like the regular music, so prior to my lessons with Mr. Morvillo I did not consider tab as an option for learning the classical guitar. However, thanks to Mr. Morvillo's teaching method of tailoring lessons to the needs the student, plus accurate and well annotated transcribed tabs from regular music notation, which he personally transcribes to tab. I am now able to play pieces with great technique and sound that I could only have dreamed of doing prior to starting my studies with this great teacher"
Joseph D.
♩ ♪ ♫
"I am retired transit worker and never played an instrument, but always enjoyed hearing classical guitar music, so I decided to take lessons and play some classical guitar as a hobby. Not only did Guido have me playing simple pieces in the first month, after one year of lessons with him I now play De Visee, Bach, Sor and more"
Matt G.
♩ ♪ ♫
"Highly Recommended! I have been playing classical guitar for over 11 years, had several teachers, Mr. Morvillo is the first teacher to encourage and help me develop my own style of playing while greatly improving my classical guitar technique"
José C.
♩ ♪ ♫
"After a vacation in the south of Spain I became mesmerized by the sound and style of Flamenco Guitar. I thought I would never find a Flamenco guitar teacher in my area, not only did I fine one, Guido is a fantastic teacher! Extremely knowledgeable and easy to learn from"
Sally E.
♩ ♪ ♫
"I am studying both Flamenco and classical guitar with Guido Morvillo. He is an extremely thorough and patient teacher with fantastic teaching skills, gifted at imparting his knowledge of the guitar to the student, I have never taken a lesson with him that I did not learn something new and I have been with Guido going on 5 years now"
N
eal D.
♩ ♪ ♫
"I started playing at the age of 14 and took classical guitar lessons with other teachers over the years before starting with Mr. Morvillo. My personnel area if interest is early and baroque guitar. None of the teachers I had in the past were familiar enough with early guitar music to develop gauged lessons based on this literature. Not only did Mr. Morvillo provide me with comprehensive instruction in baroque guitar music. He also instructed me in baroque guitar playing techniques and original early music tablature reading (not to be confused with modern day tab) . A rare find for a private guitar teacher"
Camilla R.
♩ ♪ ♫
"I have been looking high and low for someone to help me improve my Native American Flute playing. While attending one of Mr. Morvillo's Classical Guitar concerts. I was very shocked to hear he is also an accomplished player of the Native American Flute. In just a few Native American Flute lessons he taught me how to get true NA Flute sounds and to play extended improvisations"
Janis W.
♩ ♪ ♫
---